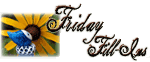 I came across this at Crazy Daisy's blog last week and thought it looked like fun. Here are my answers:

1. I love springtime in February!
2. Bacon, eggs, bacon and milk are foods I love to eat for breakfast.
3. It seems I'm always searching for blogging topics (and my keys).
4. Snuggling with my husband is a great way to end the day.
5. I think I need to get in better shape.
6. Tatertot Casserole is what I've been craving lately.
7. And as for the weekend, tonight I'm looking forward to going to a friend's 40th birthday party tomorrow my plans include going through Sydney's box from the hospital (we have not done this yet) and Sunday, I want to take a nap!

I meant to get this posted last night, but just not get to it.